Welcome
Musician . Writer . Producer.  Blues Man
Be sure to have look-see at our store. Hit the shop link, take a listen,  and catch up on Walter's latest releases.  
The Story...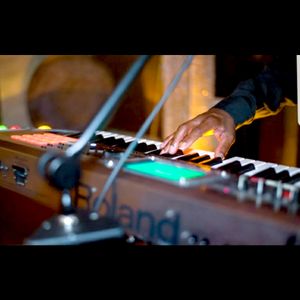 Known to many as The Maverick of Soul Blues, Walter Waiters has been a force to be reckoned with in both genres for almost two decades.
Born in San Antonio Texas, Walter began his musical journey at the early age of 3. His Mother noticed him humming and playing the edge of their coffee table as if it were a prized Baldwin Piano; matching each note with the pounding of his fingers. After watching young Walter for a while, she said that she had a feeling that if she were to buy him something with piano keys on it, he would play it. She was right!
From the moment Walter began teaching himself to play the instrument which would introduce him to the masses, he never failed to impress his siblings, and neighbors with his ability to take any song and customize it to fit "his element". Concert goers to this day have been blown away by Walters ability to make any cover he takes on unique to his own style.
During his teen years and well into his twenties, Walter would perform in talent shows, at a local church, and would often sneak into blues spots to jam with whomever would let him sit in. Walter does credit his time playing in the Church for developing his ear and ability to improvise at the drop of a dime. He would say " During that time, it was less about spectacle and more about feeling, and feeling has no key. You had to feel your way though a persons song".
During a Blues concert he was attending in the early 90's which featured one of his all time favorite artists Buddy Ace, Walter had a chance encounter with the Soul Blues Singer who would forever change his direction. Buddy told Walter that the genre would need guys like him who could write and perform to keep the music alive. Sadly later that year, his hero would pass away while performing on a stage in Texas. Walter vowed to keep his promise to the late singer and to himself, thus giving birth to The Man we now know as The Maverick.
Walter has over the last 22 years released 9 full Albums, and 7 singles; He has also written and produced songs for many up and coming  Artists as well.
His own biggest hit came very early in his career when he wrote and released what he thought would be a funny little song that people would enjoy entitled "Don't Scratch my Back". The song was an immediate crowd favorite, and remains his most popular song to date. If you were to ask any Walter Waiters fan however, they would tell you that, everything the guy touches "sticks with you, he paints a picture with every song he writes and performs". Many have been quoted as saying things like "He is the real deal", "He is believable".
Walter has shared the stage with the likes of,  Latimore, Mel Waiters,  Walter Wolfman Washington,  Kenny Wayne Sheppard,  Lenny Williams,  Marvin Sease, J Blackfoot,  Theodis Ealey, and more..
One thing that makes Walter unique in his field is, that he is 100% independent and solo. He is every bit of the one man Orchestra.
"Having a band stressed me out to the point where I hated my own music"  is what Walter told a reporter once. He followed up with. " I don't expect others to understand my mission and where I am headed with this music, but there is a sound that I have been searching for and I've almost found it, it's been in my head since I was a child, and I've almost found it". If he ever settled with a band, versatility would be a must for the crew. 
During the early 2000's, Walter moonlighted with a Country and Western band named The Country Bandits from Blair Oklahoma; it was there that many got to see the versatility.  Audiences,  mostly all white, went from wondering why this young black man was in their establishment,  to trying to book him alone the following week. Walter departed from the group after a year to focus more on his own mission. He soon left Oklahoma all together. Next stop, Sin City. 
Walter currently resides in Las Vegas, Nevada, where he performs regularly for his loyal following. He also stays true to his fans in the southern,  midwestern / western regions, traveling these places often with his beloved keyboard "Anna Mae". 
Walter shows no signs of slowing down and stays in the studio where he creates the stories that we all love to play over and over again. The future of Soul Blues is in good hands.
A Musician, Writer, Producer, and Entertainer on a mission. Walter Waiters . The Maverick of Soul Blues.